SCut® MAX | Laser cutting optics
SCut® MAX offers users of modern laser cutting systems an optimized laser cutting head with temperature-stable distance control and autofocus function. SCut MAX signifies burr-free cuts and high speeds when laser cutting a wide variety of flat materials made of steel, stainless steel, aluminum, or non-ferrous metals.
Thanks to the revised cooling concept and the expanded compatibility with the FCH-16 fiber connector, laser powers of up to 30 kW are possible.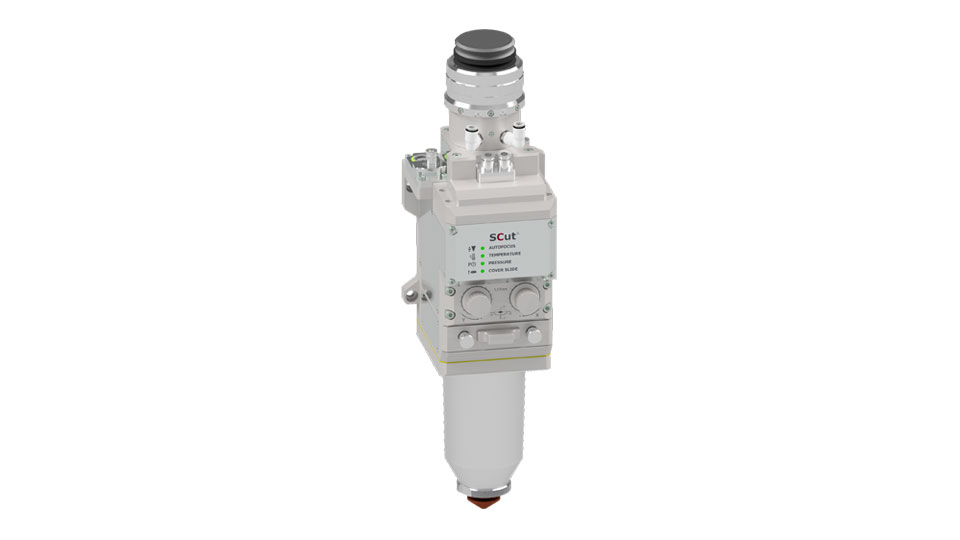 Function description
The combination of low-drift distance control and autofocus function enables safe insertion as well as smooth and burr-free cuts in the material — whether flatbed or bevel cutting, thin sheet or thick sheet metal. The laser cutting head is also characterized by an extremely user-friendly concept allowing front-operated and axis-true beam adjustment.
Areas of application
Laser cutting
Flatbed and bevel cutting systems as well as pipe cutting systems
Thin and thick sheets
Advantages
Suitable for modern, powerful laser cutting systems with a laser power of up to 30 kW
Optimized cooling concept to protect optical components and achieve stable process results all the time
Improved cutting gas flow for the best cutting results
Robust autofocus system with high dynamics for reliable insertion and precise focus position
Resistant sealing system, including seal monitoring to protect the optical components
Temperature-stable distance control between laser cutting head and workpiece for constantly stable cutting results, even with high laser power and long processing times
The user-friendly service concept enables system integrators to change the optical components quickly and easily
Precise and true-to-axis horizontal adjustment of the laser beam in X and Y-directions on the front of the cutting head for effortless operation
Comprehensive sensor-based status monitoring for the reliable operation of the system
Properties
The design of the optics allows certified system integrators to change optical components quickly and easily
Collimation focal length of 100 mm and focal lengths of 150 mm or 200 mm
Status indicator for monitoring the laser cutting head
Front-operated horizontal adjustment in the coordinate system of the cutting system
Cutting gas pressure up to a maximum of 25 bar
Further product information
Optical System
Collimation focal length
100 mm
Focal lengths (magnification)
150 mm (1,5), 200 mm (2,0)
Adjustment range of the focus (horizontal)
+/- 1 mm
Wavelength range of the work laser
1030 - 1090 nm
Max laser power
Max. 30 kW
Acceptance half-angle
N/A:
bis 130 mrad
max 0,13
Fiber couplings for fiber connector types
Trumpf-D, FCH-16
Autofocus System
In workpiece direction (-)
30 mm (M2,0)
In nozzle direction (+)
25 mm (M2,0)
Correction range / offset Z-axis
± 3 mm (M 2,0)
Housing
Dimensions (WxDxH)
96 x 134 x 387 mm (M 2,0)
Weight
ca. 5,3 kg (M 2,0)
IP class
64 (bei gestecktem LLK-Stecker)
Supply
Electrical supply
DC 24V / max. 2 A
Kurzschlussfeste 24V Signalausgänge
Process gas
Anschlüsse Fittinge 10 mm
Inerte und Aktivgase, max. 25 bar
Cooling water (fiber coupling)
Anschlüsse Fittinge 6 mm
Durchflussmenge mind. 1,5 l/min., max. 5 bar
Cooling water (cutting head)
Anschlüsse Fittinge 6 mm
Durchflussmenge mind. 1,5 l/min., max. 5 bar

Cooling gas
Druckluft, max. 5 bar
Contact us
Service
Technical Service
phone +49 - 30 - 91 20 74-311
fax +49 - 30 - 91 20 74-333
e-mail service@scansonic.de