Scansonic is the prime address for intelligent laser processing.
Since we have started our company in 2000, we have been working on new ways for the industrial application of laser technology. Our customers achieve the highest quality in their production with our innovative processing heads for laser joining, hardening and cutting including our optical sensor technology. Together, we develop the best possible solution for you.
News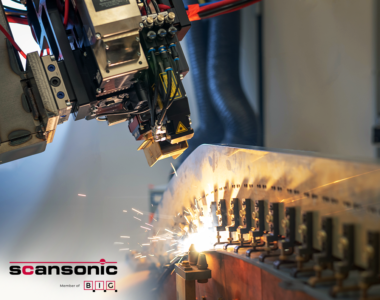 27. May 2020
Scansonic is one of "Germany's innovation leaders". This was confirmed by the F.A.Z.-Institute - a subsidiary of the "Frankfurter Allgemeine Zeitung" - in a recently published analysis. Prognos therefore examined the patent applications of 150,000 companies operating in Germany.
read more
Events
21. – 23. 04. 2020
Flexibility and Efficiency - Seemingly contrary goals govern joining technology development in modern car body engineering!
Bad Nauen
28. – 30. 04. 2020
UNIQUE, INNOVATIVE AND SIMPLY CUTTING-EDGE CUTTING WORLD® is one of a kind: it is the only specialist trade fair that concentrates on the entire cutting process chain. After last year's successful appearance, this year's trade fair will once again draw in the crowds from the cutting technology industry, and will be held in parallel to the Deutsche Schneidkongress ® (German Cutting Technology Conference).
Essen
06. – 08. 05. 2020
A forum where users, manufacturers and developers can intensively exchange ideas on the current state and perspectives of laser technology.
Aachen
12. – 13. 05. 2020
To present and discuss, the global network of automotive engineers will gather with wellfounded information and a high level of technical exchange.
Bad Nauheim
18. – 20. 05. 2020
LASER PHOTONICS China presents the entire range of photonics in an international setting, tailored to the specific needs of the Chinese market.
Shanghai, China
26. – 28. 05. 2020
The world's largest event dedicated to coil winding, electric motors, transformers and generators.
Berlin