Scansonic is the top choice for intelligent laser processing.
Since starting our company in 2000, we have been working on new ways for the industrial application of laser technology. Our customers achieve the highest quality in their production with our innovative processing heads for laser joining, hardening and cutting including our optical sensor technology. Together, we develop the best possible solution for you.
News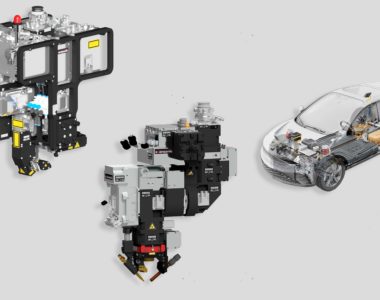 05. Apr 2022
Battery boxes in electric vehicles can influence more than just vehicle dynamics. The fire risk posed by batteries makes them crash-relevant components. For this reason, high-strength aluminum alloy structures are used in production, although they are markedly susceptible to hot cracking. The quality of the weld seams is a decisive factor in part strength. Scansonic is presenting its product portfolio at LASER World of Photonics.
read more
Events
31. – 01. 06. 2022
International conference on the industrial use of Laser technologies in automobile production
Bad Nauheim, Germany
07. – 09. 06. 2022
This long-standing conference connects industry experts, suppliers, and manufacturers together with knowledge to share for three days of learning, cutting-edge technology demos, and networking.
Plymouth, Michigan, USA
07. – 10. 06. 2022
Asias's leading fair for welding and cutting applications
Shenzhen, China
13. – 15. 07. 2022
Die LASER World of PHOTONICS CHINA ist Asiens größte Fachmesse für die Photonik-Industrie und findet seit 2006 jedes Jahr in Shanghai statt. Sie präsentiert die gesamte Bandbreite der Photonik in einem internationalen Umfeld, zugeschnitten auf die spezifischen Bedürfnisse des chinesischen Marktes.
Shanghai, China
25. – 28. 10. 2022
Global trade fair focusing on innovative technology and specific solutions for the sheet metal working industry.
Hannover, Germany
08. – 10. 11. 2022
North America's Largest Metal Forming, Fabricating, Welding and Finishing Event.
Atlanta, USA