Scansonic is the top choice for intelligent laser processing.
Since starting our company in 2000, we have been working on new ways for the industrial application of laser technology. Our customers achieve the highest quality in their production with our innovative processing heads for laser joining, hardening and cutting including our optical sensor technology. Together, we develop the best possible solution for you.
News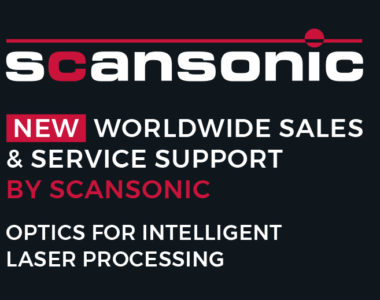 04. Jul 2022
Scansonic, one of the leading companies for laser products in metal processing, will be conducting its own worldwide sales efforts as of July 1, and will be in direct contact with its customers through its own branch offices and distributors.
read more
Events
13. – 15. 07. 2022
Die LASER World of PHOTONICS CHINA ist Asiens größte Fachmesse für die Photonik-Industrie und findet seit 2006 jedes Jahr in Shanghai statt. Sie präsentiert die gesamte Bandbreite der Photonik in einem internationalen Umfeld, zugeschnitten auf die spezifischen Bedürfnisse des chinesischen Marktes.
Shanghai, China
14. – 17. 09. 2022
Asias's leading fair for welding and cutting applications
Shenzhen, China
25. – 28. 10. 2022
Global trade fair focusing on innovative technology and specific solutions for the sheet metal working industry.
Hannover, Germany
08. – 10. 11. 2022
North America's Largest Metal Forming, Fabricating, Welding and Finishing Event.
Atlanta, USA
25. – 27. 04. 2023
At CUTTING WORLD you can experience all of the important aspects of cutting technology at close quarters.
Essen, Germany
11. – 15. 09. 2023
Key topics, including additive manufacturing, Industry 4.0 and underwater engineering, will all be showcased at SCHWEISSEN & SCHNEIDEN. This is a unique opportunity to experience and discuss further developments in automation, robotics and production.
Essen, Germany