Scansonic is the prime address for intelligent laser processing.
Since we have started our company in 2000, we have been working on new ways for the industrial application of laser technology. Our customers achieve the highest quality in their production with our innovative processing heads for laser joining, hardening and cutting including our optical sensor technology. Together, we develop the best possible solution for you.
News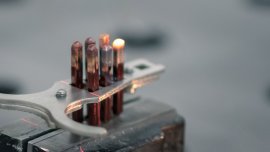 03. Aug 2021
Automotive manufacturers are currently working intensively on drives of the future. As part of a research project, a prototype plant is currently being built at Ford's Cologne plants to develop new production processes for electric motors. . For welding the hairpins in the stator, Scansonic's RLW-S remote optics are in use. We are very proud of this.
read more
Events
13. – 17. 09. 2021
SCHWEISSEN & SCHNEIDEN, the International trade fair Joining Cutting Surfacing, is the most important global event in your industry
Essen