Scansonic is the prime address for intelligent laser processing.
Since we have started our company in 2000, we have been working on new ways for the industrial application of laser technology. Our customers achieve the highest quality in their production with our innovative processing heads for laser joining, hardening and cutting including our optical sensor technology. Together, we develop the best possible solution for you.
News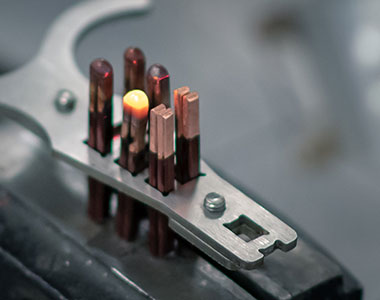 24. Jun 2019
The LASER World of PHOTONICS 2019 is where Scansonic will be introducing its new RLW-S laser processing optics for laser welding the hairpins used in electric motors. This system's integrated optical sensor precisely detects contours and reliably controls even the most complex welding processes.
read more
Events
01. – 06. 02. 2020
SPIE Photonics West covers a wide range of topics: biomedical optics, biophotonics, industrial lasers, optoelectronics, microfabrication, MOEMS-MEMS, displays, and more.
San Francisco, CA, USA
11. – 12. 02. 2020
EALA, Automotive Circle's international conference on progress in laser-based manufacturing technologies and laser application in automobile production.
Bad Nauheim
04. – 05. 03. 2020
Only one thing is certain, that nothing is certain. Which is why "flexibility" and "agility" are currently among the most frequently used terms in the automotive industry. The number of vehicle variants, different drive systems and car body derivatives is still growing; at the same time, customer requirements can constantly be subject to change. In a situation like this, flexibility is key.
Bad Nauheim
21. – 23. 04. 2020
Flexibility and Efficiency - Seemingly contrary goals govern joining technology development in modern car body engineering!
Bad Nauen
28. – 30. 04. 2020
UNIQUE, INNOVATIVE AND SIMPLY CUTTING-EDGE CUTTING WORLD® is one of a kind: it is the only specialist trade fair that concentrates on the entire cutting process chain. After last year's successful appearance, this year's trade fair will once again draw in the crowds from the cutting technology industry, and will be held in parallel to the Deutsche Schneidkongress ® (German Cutting Technology Conference).
Essen
06. – 08. 05. 2020
A forum where users, manufacturers and developers can intensively exchange ideas on the current state and perspectives of laser technology.
Aachen