Product family for cutting optics is expanding
02. Mar 2022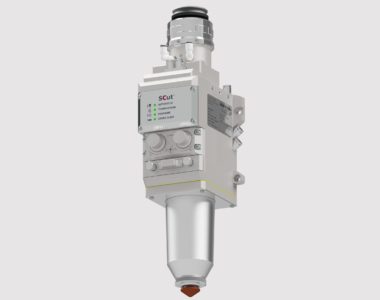 The laser cutting optics in Scansonic's SCut series have proven themselves in many applications. Low-drift distance control and an autofocus function ensure high cutting quality. The unit is easy to set up, with horizontal adjustment between laser beam and nozzle regulated by two front-mounted rotary controls. Scansonic has also integrated these design benefits into its new SCut MAX cutting optics, which the company will present for the first time at the LASER World of Photonics trade fair in Munich.
Design adjustments for high power levels
The cutting optics were refined with smart optics design and high-quality optical components to accommodate higher laser power levels of up to 30 kW. In addition, the cutting gas flow was adjusted to the laser power levels and now permits a significantly higher volume flow. The cooling design for the cutting optics was also refined to accommodate the greater heat generation. Larger cooling water conduits and additional cooling elements prevent excessive temperatures from causing damage to the cutting optics. The optics' autofocus range was also adapted to allow cutting of significantly thicker material. SCut MAX uses an FCH-16 fiber connector for coupling. This connector is suitable for commercially available fiber and disc lasers, and can easily transmit power levels up to 30 kW.
Scansonic has also further enhanced the design of the monitoring sensors for the laser cutting optics in the SCut MAX. Malfunctions are reported immediately to ensure greater overall process safety.
Taken together, these measures produce extremely high-quality cutting results.
Extensive cutting head product family
Going forward, Scansonic will equip all laser cutting optics with a fast fieldbus connection, which will simplify integration into the controller technology used for laser cutting systems. With its new laser cutting optics, Scansonic is expanding its portfolio and now offers the right optics for a wide range of applications. In addition to the SCut 360 for lasers with a large divergence angle and the SCut Pro for laser power up to 12 kW, the SCut MAX now provides a version for higher laser power of up to 30 kW. This permits a robust and stable process for laser cutting of very thick materials or high cutting speeds. More information on the laser cutting optics is available at: https://www.scansonic.de/en/applications/laser-cutting/