EX-TRABEAM PRO |

Smooth and burr-free cuts

EX-TRABEAM® PRO is the result of Scansonic's development partnership with Thermacut. The cutting head offers users of modern laser cutting machines an optimized laser cutting head with autofocus function. It has a level of mechanical sealing, including "Smart Protection" seal monitoring to protect the optical components. Designed with a user-friendly service concept, trained and certified plant engineers can quickly and easily change optical components in a flowbox that minimizes dirt and contaminants on the optics.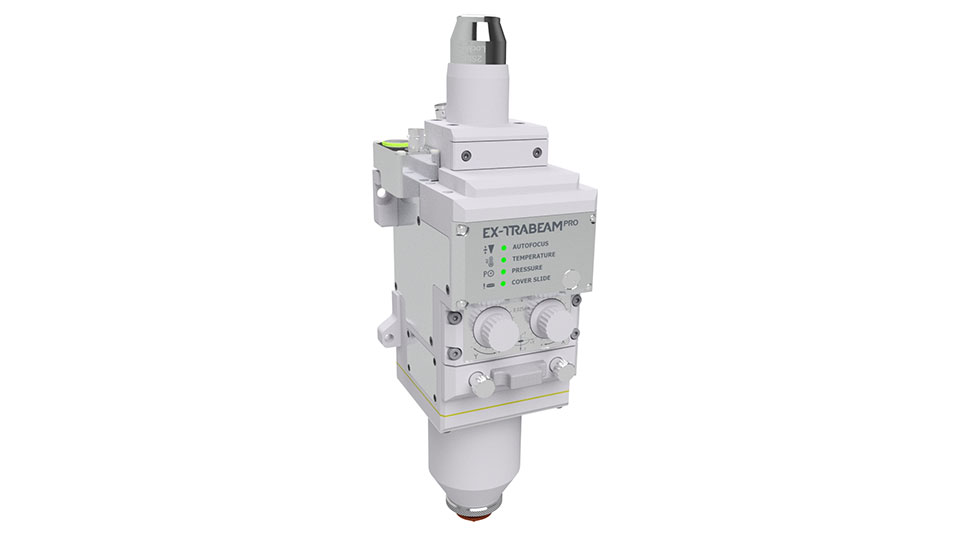 Function description
The combination of low-drift distance control and autofocus function enables safe insertion as well as smooth and burr-free cuts in the material — whether flatbed cutting or bevel cutting, thin sheet or thick sheet metal. The laser cutting head also stands out for its user-friendly design that allows frontal operation and axis-precise beam alignment.
Areas of application
Laser cutting
Flatbed cutting or bevel cutting
Thin sheet or thick sheet metal
Advantages
Suitable for use with modern, high-performance laser cutting machines
High level of mechanical sealing, including seal monitoring system for protection of the optical components
Stable distance to the workpiece and thus better cutting results even with high beam power and long operating times
User-friendly service concept
Properties
Unit allows trained and certified system integrators a fast and uncomplicated change of optical components
Collimating focal length of 100 mm as well as focused focal lenghts of 125mm, 150mm, 175mm or 200mm
Status indicator
Focusing with horizontal adjustment (X,Y)
Cutting gas pressure up to a maximum of 25 bar
Further product information
| Optical system | |
| --- | --- |
| collimation focus length: | 100 mm |
| Focusing focal length: | 125 mm, 150 mm, 175 mm and 200 mm |
| Adjustment range Focusing (horizontal): | +/- 1mm |
| Wavelenght range: | 1030 - 1130 nm |
| Max. laser power: | 8 kW |
| Max. beam parameter acceptance (half angle): | 125 mrad |
| Laser light cable receiver | Optoskand QBH, Trumpf-D |
| Diameter laser light cable: | Up to 200 µm |
Verfahrbereich Autofokus (Fokuslage zum TCP, TCP 1 mm unterhalb Schneiddüse)
Abbildungsverhältnisse
1.25, 1.50, 1.75, 2.00
In Werkstückrichtung (-)
9 mm, 13 mm, 18 mm, 20 mm (abhängig vom Abbildungsverhältnis)
In Schneiddüsenrichtung(+)
6 mm, 9 mm, 12 mm, 15 mm (abhängig vom Abbildungsverhältnis)
Housing
Dimensions
92 x 117 x 359 mm (depending on configuration)
Weight
ca. 5 kg (depending on configuration)
IP-Protection
64 (when the fiber is inserted)
Supply
Electric
DC 24V / max. 4 A
Process gas
Inert and active gases, max. 25 bar
Cooling gas
Air, max. 5 bar
Flow min. 1,5l/min
Cooling circuit
Operating pressure max. 5 bar