Laser cutting optics from Scansonic now available in direct sales
11. Oct 2021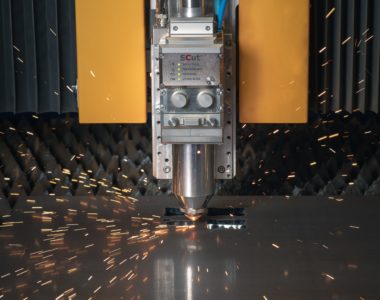 The SCut laser cutting optics ensure burr-free cuts in both flatbed and bevel cutting for thin as well as thick sheets. To achieve this, SCut combines low-drift distance control with autofocus function.
The Scansonic developers have rethought the Operation of the optics. The horizontal adjustment between the laser beam and nozzle is carried out precisely and true to the axis using two rotary controls attached to the front. This solution not only saves time during setup but also increases the quality of machining significantly.
A sophisticated mechanical sealing system protects the optical components from contamination and ensures that the cutting optics are extremely robust. Continuous seal monitoring notifies the user early if something goes wrong.
The SCut laser cutting optics are also particularly user-friendly in terms of maintenance and service. Trained staff can carry out a great deal of maintenance on-site, even the replacement of optics packages. This saves time and prevents system downtimes.
The right optics for every application
Scansonic's portfolio offers the right solution for varying requirements: The SCut PRO model is particularly suitable for focal lengths from 125 to 200 mm. The autofocus system covers an extensive range from 20 mm in the workpiece direction to 15 mm in the nozzle direction. The SCut 360 laser cutting optics is recommended for ring-mode lasers with a large divergence angle. Using both optics achieves excellent results especially when cutting thick structural steel with little laser power. The acceptance half-angle of the optics is 360 mrad. This means that the laser cutting optics can also be used for lasers that have a larger beam divergence.
Both SCut laser cutting optics work with fiber and disk lasers in the wavelength range from 1030 to 1130 nm and are available with the Optoskand QBH and Trumpf-D fiber connectors. The optics are suitable for all modern high-performance laser cutting systems.
From now on, Scansonic will sell the optics directly. This offers the customer numerous benefits: On the one hand, they benefit from direct manufacturer service. On the other hand, the developers receive vital impulses from the users for their work. Finally, the shorter distribution channels lead to cost advantages that Scansonic passes on to its customers.
Find more informatiion about Scansonic Laser Cutting Optics.